Congratulations on finding this website!  What you are about to discover will change your life and your death. This unique approach to end of life planning was born on December 30th 2016, the day my sister died.
Jennifer was only 50 years old when she passed, and like most of us at that age she didn't think much about dying, not to mention, plan for it.  On the other hand, our mother, Janice, was 85 years old when she died, and she was ready.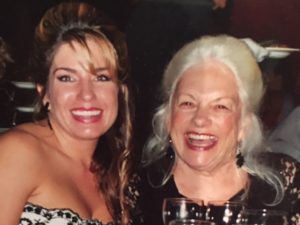 She had created a trust, a pour over will, a living will, and she had made many other critical end of life decisions. Mom even made a video about her life and wrote letters to each of us children in her final week of life.  While my mother's preparation was adequate she only chose to do about 15 of the over 100 items on our proprietary End of Life GuideTM.
Jennifer, on the other hand had done the 5 or so things that most of us who fancy ourselves prepared for death have done.
She had the following:
Living Trust
Pour Over Will
Financial Power of Attorney
Medical Power of Attorney
A brother (me) who knew about those documents
What she did not have in place, however, is the essence of this narrative, and the reason that my life is now dedicated to the mission of GoGracefullyTM.  As I mentioned above, there are over 100 things that we can do to create peace of mind in both life and death for ourselves, for our loved ones, and for the world at large. The more awareness we bring to the other critical choices and actions—besides the big 5 above—the more peace and stability we will create.
My sister's biggest mistake was not having a living will. A living will is a written statement detailing a person's desires regarding their medical treatment in circumstances in which they are no longer able to express informed consent, also known as an advance directive.  There are many styles of living wills available and some need to be specific to the state you live in, but they all, essentially, accomplish the same end; ensuring your wishes are known should you become unable to speak for yourself, and that is exactly what did not happen in my sister's case.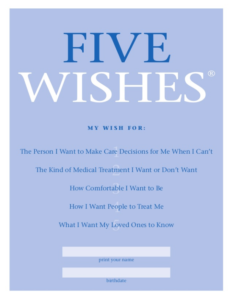 (This is such an important document that GoGracefullyTM will give you a free copy of the only "living will with a heart and soul."  It is called 5 Wishes and it usually costs $5.00, but we cover this cost for all of our members.)
It was Christmas Eve 2016 in Hawaii when the call came, my 3 daughters (all under 9) were in the state of mind you would expect when I pulled myself away from them to answer the phone.  It was a doctor from the emergency department in Sonoma, California.  Apparently, Jennifer, who had a history of liver disease, was having some trouble breathing due to ascites and she was being transported to UCSF medical center to be evaluated for a liver transplant.  When I asked the doctor how serious it was and if I could spend Christmas with my children before flying out he replied, "If you want to see her again you should not delay."  As I found out just 5 days later, the doctor was correct.  So, I left my wife and children on Christmas Day and began the most difficult journey of my life.